World Pre-eclampsia Day: act early! screen early!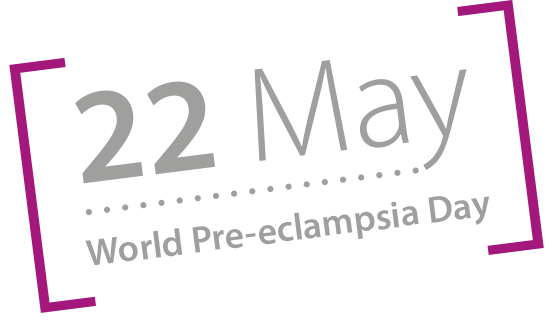 We are proud to support the European Foundation for the Care of Newborn Infants (EFCNI) on their pre-eclampsia awareness campaign 2021.
Why does pre-eclampsia need an awareness campaign?
Pre-eclampsia is a life-threatening disorder, usually in the second half of some pregnancies, and can lead to serious complications for the baby and the mother if it is not monitored and treated. The earlier pre-eclampsia is diagnosed and monitored the better the outlook for both the mother and the baby. During the routine pregnancy checks, pre-eclampsia can easily be diagnosed, however, it can only be cured by delivering the baby. New onset of hypertension and/or proteinuria are the first clinical signs and symptoms; additional symptoms are abdominal pain, haemorrhage, placental abruption or severe HELLP-syndrome (Hemolysis, Elevated Liver enzymes, Low Platelets).
1st trimester pre-eclampsia screening >
Free Webinar on World Pre-eclampsia Day >
May is pre-eclampsia awareness month: join the campaign!
May is pre-eclampsia awareness month and May 22nd is World Pre-eclampsia Day. Please join us to raise awareness for this severe pregnancy condition and support EFCNI's campaign "act early! screen early!" Thank you.
Download and share the materials provided by EFCNI on your social media channels and website
Use the hashtags #ActEarlyScreenEarly and #WorldPreeclampsiaDay21
Please watch this space for more information and activities.
Webinar on World Pre-eclampsia Day now available on-demand!

If you missed registering for the live webinar last Saturday, on World Pre-eclampsia Day, we've got good news: The entire session is now available on-demand. Follow this link to register for the free on-demand Webinar on World Pre-eclampsia Day!




Share on Facebook >

Share on Twitter >

Share on LinkedIn >

Register for Live Webinar on World Pre-eclampsia Day

Years of research in antenatal care have yielded great results in the diagnosis and prevention of pre-eclampsia. Professor Kypros Nicolaides, an expert in this field, explains exactly what these advances are and how they significantly improve the health of women and their unborn children.

Professor Nicolaides is one of the speakers in this Saturday's Live Webinar on World Pre-eclampsia Day. Register today to learn more about this pregnancy-related disease from both, the healthcare professionals and the patient's perspective.

Your browser does not support HTML5 video.



Share on Facebook >

Share on Twitter >

Share on LinkedIn >

Share on Instagram >

Join flashmob on World Pre-eclampsia Day

One more week to go - Join our flashmob on World Pre-eclampsia Day, next Saturday on 22 May! Help us to inform about pre-eclampsia and to raise awareness for early risk assessment and targeted preventative measures to save the lives of women-at-risk and their unborn babies.

Joining is easy

① Visit our campaign page https://www.efcni.org/.../campaigns/world-preeclampsia-day/
② Download your flashmob sign
③ Take a selfie of yourself with that sign
④ Post that selfie on your social media accounts
⑤ Make sure to tag @efcni and @EFCNIwecare on Twitter
⑥ Use also the hashtags #ActEarlyScreenEarly and #worldpreeclampsiaday2021




Share on Facebook >

Share on Instagram >

Download pre-eclampsia factsheet

Pre-eclampsia is a rare and complex complication of pregnancy. Often, women-at-risk do not notice any symptoms for a long time, furthermore, symptoms can easily be misinterpreted.

EFCNI, together with experts, has therefore developed a factsheet on pre-eclampsia that lists all information on the condition itself, symptoms, screening and treatment options in a compact and comprehensible way.

The factsheet is available in 8 languages:
Dutch, English, French, German, Greek, Hebrew, Hungarian, and Russian. Get your copy here: https://www.efcni.org/downloads/factsheets/




Share on Facebook >

Share on Twitter >

Share on LinkedIn >

Share on Instagram >




Share on Facebook >

Share on Twitter >

Share on LinkedIn >

Share on Instagram >




Share on Facebook >

Share on Twitter >

Share on LinkedIn >

Share on Instagram >
Download and share pre-eclampsia awareness campaign materials