Neopterin – indicator for the activation of the cellular immune defence
B·R·A·H·M·S Neopterin Screening EIA: Enzyme immunoassay for the screening of blood donors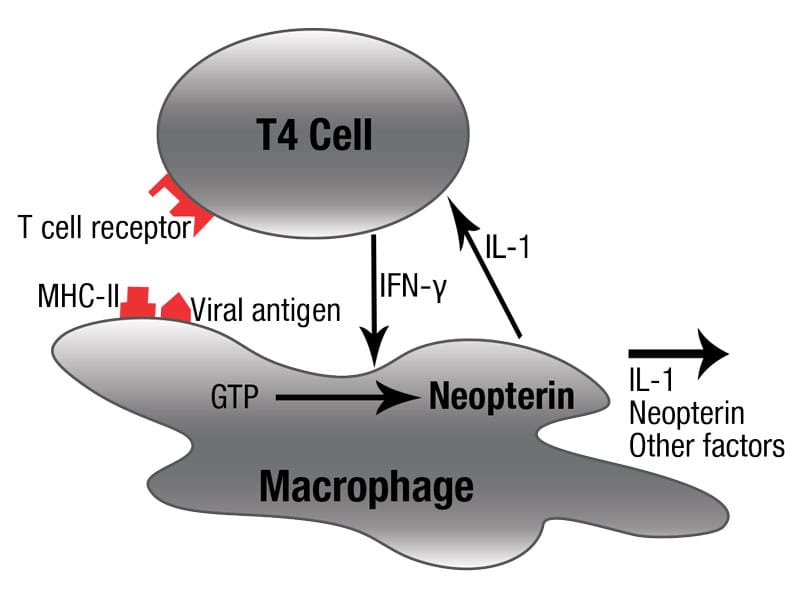 Adapted from: "Neopterin - A Message from the Immune System" by Dietmar Fuchs, Monograph (1998)The B·R·A·H·M·S Neopterin-Screening EIA is a competitive enzyme immunoassay specifically adapted for the indication of "screening of blood donors" for the quantitative determination of neopterin in serum and plasma using coated microtitre plates.
In infections, especially of viral and parasitic origin, neopterin levels rise right from the early phase before the appearance of specific antibodies. Only in the event of chronic or life-threatening development (sepsis) do infections by extracellular bacteria give rise to increased neopterin levels, whereas infections caused by intracellular bacteria are generally accompanied by an increase in neopterin as early as in the acute phase.
One important area of application of the neopterin test is blood donor screening in order to reduce the risk of infection from blood transfusions. Precisely because of its non-specificity, neopterin is a useful marker for this purpose as donated blood cannot be routinely tested for all infectious diseases such as cytomegalovirus, toxoplasmosis or hepatitis A. Moreover, neopterin determination makes it possible to achieve a further reduction in the size of the "diagnostic window" between exposure to the pathogen and the formation of antibodies.
Neopterin is thus also of great significance in excluding HIV or hepatitis infectionsRef-1.
B·R·A·H·M·S Neopterin Screening EIA: Assay characteristics
Sample type: serum, plasma
Sample volume: 50 µL
Incubation time: 2 h + 30 min
Measuring range: up to 50 nmol/L (concentration of the highest standard = S5)
Interferences
Hemoglobin: no siginificant effect up to 100 mg/dL
Bilirubin: no siginificant effect up to 4 mg/dL
Triglycerides: no siginificant effect up to 700 mg/dL
B·R·A·H·M·S Neopterin Screening EIA: Assay benefits
Excellent precision
Easy to perform
Adapted to open ELISA processors
Excellent correlation to the HPLC reference method
Mandatory blood donor screening in Austria: Screening of donations includes blood grouping and tests for viral markers as well as an unspecific marker for immune activation (which is the neopterin assay)Ref-2
Further B·R·A·H·M·S Neopterin Assays
B·R·A·H·M·S Neopterin EIA: Enzyme immunoassay for the quantitative Determination of neopterin in serum, plasma and urine using coated microtitre plates
References
Ref-1: Hoenlinger M, Fuchs D, Hausen A, Reibnegger G, Schoenitzer D, Werner ER, Reissigi H, Dierich MP, Wachter H. Serum-Neopterinbestimmung zur zusätzlichen Sicherung der Bluttransfusion. Erfahrungen an 76.587 Blutspendern. Dtsch. Med. Wschr. 114: 172-6, 1989.
Ref-2: Schannach H et al. Transfusion Medicine in Austria. Transfus Med Hemother 2006;33:364–373.