New diagnostic possibilities with B·R·A·H·M·S Copeptin proAVP KRYPTOR
Learn more
Copeptin proAVP – Surrogate Marker of Vasopressin
New diagnostic possibilities with B·R·A·H·M·S Copeptin proAVP KRYPTOR
So far, vasopressin is rarely measured because of technical difficulties and limited reliability of available assays. That's why vasopressin measurement is not adequately implemented in diagnostic pathways. With the vasopressin surrogate Copeptin proAVP new possibilities open up and the full range of the hormone's diagnostic potential can be used.
Copeptin proAVP shows a significant correlation with vasopressin, it is stable ex vivo and performs precise measurement. In addition, it is easy to manage with results available in less than one hour.
Copeptin is a reliable surrogate marker of vasopressin (AVP/ADH)
Copeptin helps to rule out AMI with Troponin.
Copeptin helps in the diagnosis of water balance disorders.
Endocrinology – Diagnosis of electrolyte disorders
Because of technical limitations of AVP assays, vasopressin concentrations were rarely measured in the past. The vasopressin surrogate Copeptin now opens the possibility to take full advantage of the hormone's diagnostic potential. Copeptin is routinely measured for the differentiation of all forms of diabetes insipidus from primary polydipsia with an easy to use assay technology at highest sensitivity and stability. The stable measurement of Copeptin allows an improved assessment of disease progression and management.
Copeptin in Endocrinology >
Cardiology – Early and safe rule-out of acute myocardial infarction (AMI)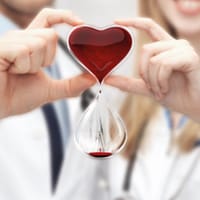 In this era of overcrowded emergency departments (EDs), measuring Copeptin along with Troponin (Tn) in the first blood draw now is proven to safely increase ED discharge, and significantly decrease hospital and ED/chest pain unit (CPU) lengths-of-stay, in patients presenting with signs and symptoms of acute coronary syndrome (ACS). Copeptin is recommended in the guidelines by the European Society of Cardiology (ESC); these suggest that using measurements of copeptin level together with troponin level is the only new diagnostic pathway that allows an instant and fast rule-out of acute myocardial infarction (AMI) with just one measurement of both biomarkers at admission.
Copeptin in Cardiology >